Welcome
Applications now open for 10th annual RCE Saskatchewan Sustainability Awards
Posted: January 25, 2018
Have you had success in the past year educating others on sustainable development practices and the importance of sustainability? Share your story and celebrate your success by applying for a recognition award from RCE Saskatchewan! Visit
www.rceskrecognitionevent.com
for forms, examples of applications from prior years, and our past recipients.
The application deadline is March 31, 2018.
Questions? Email
rcesk.event@gmail.com.
Date set for 10th annual RCE Saskatchewan Sustainability Awards: May 2, 2018, in Stockholm, SK
Posted: January 9, 2018
Every year, RCE Saskatchewan brings its recognition event to a community in Saskatchewan leading the way in education for sustainable development. This year's community host is Macdonald School, a K-9 school with 97 students, 5 teachers and remarkable initiative. They have implemented several school based projects including an outdoor classroom with a brick amphitheatre, storage barn, nature trails, and teepees. They have added a greenhouse & flower gardens and a community Mental Health Gazebo. For more information on this community's ingenuity watch this Youtube video.
Visit www.rceskrecognitionevent.com for event details. We hope to see you there!
RCE Saskatchewan recognizes 25 sustainability projects at 9th annual event in Hafford, SK
Posted: May 25, 2017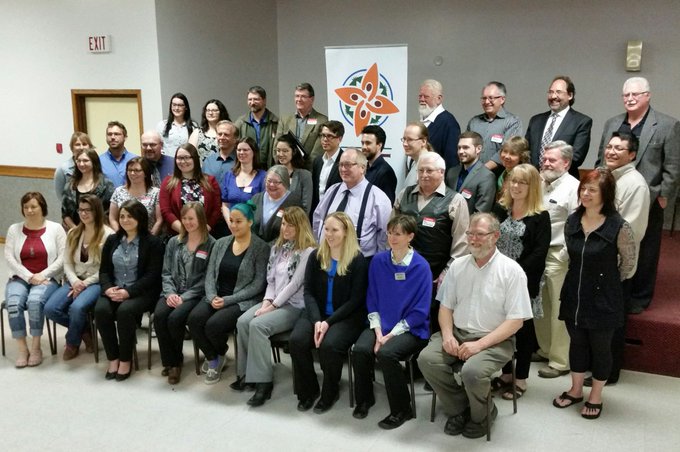 At its 2017 Recognition Event, May 3 in Hafford, SK, RCE Saskatchewan recognized another 25 innovative projects focusing on education for sustainable development. That brings the total to over 200 local projects recognized since the program launch in 2008!
The 2017 event also included presentations on the Canadian Committee for [UNESCO's] Man and the Biosphere Programme, Redberry Lake Biosphere Reserve, and Aspen Innovation Park. Thank you to our hosts and program sponsors. Watch here for information on our 10th annual event coming up in May 2018! Follow us on Twitter @saskRCE.
2017 Marks RCE Saskatchewan's First Decade: 10 Years of Strengthening Education for Sustainable Development (ESD) Locally and Globally
RCE Saskatchewan's formation came about through a partnership of the University of Regina, University of Saskatchewan, Saskatchewan Polytechnic, First Nations University of Canada, Campion College, Luther College, Carlton Trail Regional College, and Cumberland Regional College. After being formally recognized by the United Nations University in January 2007, celebrations to acknowledge RCE Saskatchewan took place in March 2007 in Regina, Craik and Saskatoon. Below are some of the RCE's accomplishments in the past decade:
1. Supporting Saskatchewan's Sustainable Development Leaders
annual RCE Saskatchewan Recognition Events
conferences on key ESD issues
meetings with policy makers in municipal, provincial, and federal governments, schools, and post-secondary education
working with organizations and communities to create local living laboratories for education for sustainable development
strategic research inputs into key policy decisions by government on energy, water use, natural resource management, and sustainable livelihoods
documentation of over 200 ESD projects in Saskatchewan
formal research publications through the UN University and other scholarly journals
2. Strengthening Saskatchewan ESD through Global Connections
drawing connections for local leaders to UN Sustainable Development Goals
connecting local leaders to RCE resources and initiatives in other countries Map of 150+ RCEs Around the World
presenting on Saskatchewan initiatives at international RCE conferences (Conferences of the Americas (Peru, Mexico, Brazil, Michigan and Vancouver) and Global Meetings)
RCE Saskatchewan flagship projects recognized by Global UN University RCE Awards (Latest Global RCE E-Bulletin)

RCE Saskatchewan Annual Recognition Event – 2013
Saskatchewan Ecomuseums Initiative – 2014
RCE K-12 Education Web Site – 2014
Voluntary Sector Studies Network – 2015
Sustainability and Education Policy Network - 2016

hosted local tours and presentations from RCEs in Japan, Australia, South Korea, Brazil
3. Contributing Saskatchewan Leadership to Global Initiatives